About
*A message from Publisher and CEO, Erik Humphrey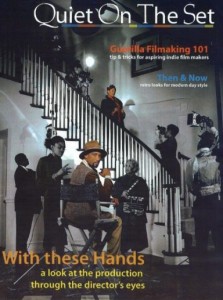 QOTS History

During the summer of 2001, with assistance from a few of my colleagues, we set out to create a production company with spirit and enthusiasm using an approach that would allow them to venture into new territories of film, video, and internet media.
While on a music video production shoot that I produced and directed, the assistant director of cinematography was taking photographs and gathering footage of the cast and crew as they were on the set hard at work. While viewing this material, I began thinking of different ways to utilize it. That's when the idea struck me. I immediately said, "Let's do a film magazine!" That day the concept of "Quiet on the Set Magazine" was born. We started designing a hardcopy version in 2007 and 2014 we decided to go digital.
What has followed since our beginning has been a joyous exploration. A search for an ideal, which challenges the traditional concepts of film and internet media, is our goal. "Quiet on the Set" is constantly forging new ways of thinking for its team of writers, producers, and directors as well as the many talented and driven artists who are the focus of our magazine.
QOTS
Quiet on the Set magazine offers a blend of film making, arts and entertainment , business, fashion and style, health and fitness, that gives its readers an inside look at Quiet On The Set. Here is a preview of what's inside:
Film Making
Industry tips from producers, directors, and cinematographers on the art of filmmaking, as
well as behind the scene looks at the film projects created by local and national filmmakers.
Arts & Entertainment
Feature stories about new artists and renowned entertainers. Quiet On The Set Magazine will cover all genres of the arts including television, music, books, and theatre to name a few. We will always be on track with the latest releases, hottest trends, and up and coming artists/projects for our readers.
Fashion & Style
See the hottest styles and fashion trends in films, entertainment, and for the everyday person. Get tips on design and ideas on everything from decorating your home or office to designing a set for a major motion picture. Whether you're looking to stock your closet, or dress an entire cast, stay up to date on what's fresh, new and exciting in the world of fashion and style.
Business
Articles and features highlighting today's business world. Quiet On The Set Magazine will give insight and inside tips from becoming an entrepreneur, to financing a major project, to scouting the media, to technology and the arts, and practically everything in between from a variety of perspectives.
Health & Fitness
Get the latest tips on staying fit and keeping healthy. We strive to give a health perspective that is not only physical, but mental, emotional, and spiritual as well. Tasking our readers to learn about and maintain healthy living from a lifestyle point of view, and challenging them to incorporate health and fitness into their everyday lives. We'll give information and ideas for a healthy mind, body and spirit.
Quiet On The Set Magazine is a multifaceted, multicultural, multimedia forum with the initiative to feature articles, videos, photos, and digital/social media for those with a passion for innovation and being on the cutting edge of entertainment.
QOTS Mission
Quiet on the Set is a new avant-garde magazine created with the mission to inform, entertain, and educate our audience with an innovative approach to the genre of internet magazine. Though our magazine highlights film, it will also include articles on arts and entertainment, fashion and style, health and fitness, and business. Our aim is to communicate to individuals aspiring in any field of film and the aforementioned genres. We strive to be an inclusive not exclusive magazine.
---
*Letter from the Editor
Welcome to "Quiet on the Set Magazine", a quarterly digital on-line publication designed for and inspired by you. Our goal is to educate, entertain, inform, and inspire you, the reader to explore the world through film, arts, and various aspects of the broad spectrum of entertainment. Whether you are a filmmaker, a film aficionado, or simply a film lover, we have something for you. If you are a musician, a singer, or a music connoisseur, we've got you covered. Are you an artist, or designer? You will find a rainbow palate of colors, shades, and textures on our pages. Are you inspired to be a writer, producer, or director? "Quiet on the Set Magazine" is your source for inspiration. Whatever the genre of film, arts, or entertainment, we have something for you…not just something, but the thing you've been so eagerly waiting for. "Quiet on the Set" is unique to your interests and needs, taking you to places you've never been, and would otherwise never go. We give you an inside perspective from a creative lens that is always wide open.
We at QOTS are dedicated to giving you, the reader information which will give you access to resources you never had access to before. We enjoy turning you on to people, places and things you may not have heard of before, but will surely hear of again. In upcoming editions, we will travel to obscure places to bring you out of the way things so far off the beaten path you'll need a map to even come close to finding them. That is our passion, opening your eyes to the unseen, giving an ear to the unheard, and tapping into the untapped. Here, you will be exposed to popular culture in a nontraditional manner while hopefully, adding a different twist and an even more unique perspective to all that we offer.
While we inspire you, we want you to inspire and motivate us to bring you the best in entertainment, style, health and fitness, business, fashion, and more. I humbly invite you to open your eyes and let us expand your minds as we take this beautifully unique journey together into a world that is "Quiet on the Set Magazine".
Sincerely,
Darryl M. Rembert, Editor,
QOTS
---
Chief Media Correspondent
Editor

Public Relations

Health & Fitness Editor
Fashion & Style Writer

Fashion & Style Writer

Film/Photographer Writer

Business Writer

Fashion & Style/Health & Fitness Writer

NY Marketing Team/Arts & Entertainment Writer

Arts & Entertainment Writer

Culinary Editor

Fashion & Entertainment Writer

Health & Fitness Writer

Writers

Film Critic & Writer
How to Contact Us
Quiet On The Set Magazine
(202) 803-2637