Charles Mattocks: Celebrity Chef Turns Revolutionary Health Advocate & Filmmaker
Posted March 28, 2016 by qotsm in
Film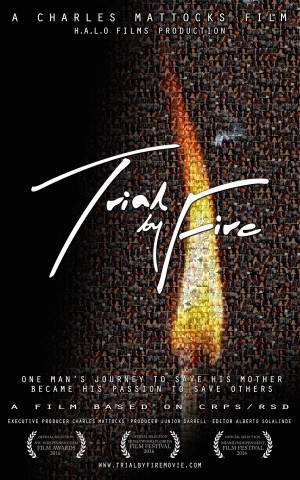 When he was younger living in Queens New York he always wanted to follow in actor, Morgan Freeman's footsteps. Charles Mattocks who was determined to be in the entertainment field, sat faithfully at the doorstep of Sony Records, passing out demos when things were popping in the 80s. He has witnessed many stars that were ushered in and out of Sony's doors. However, eventually his goals changed when he had to contend with his mother's illness.
Charles Mattocks, nephew of the late great reggae artist Bob Marley, wants his documentary film "Trial by Fire" to open a powerful door and create a platform to be utilized to help the health field with assisting people who are suffering with a disease called RSD/CRPS. Mattocks' mother, who is Bob Marley's sister, was diagnosed with RSD/CRPS several years ago. He witnessed the pain and the mismanagement of this condition first hand. When Mattock's lost his father in 2014, he became more determined to research and obtain the much needed medical treatment for his mother. While garnering the proper care for her, he also wants to bring awareness to the condition that has engulfed about 2 million other lives. The documentary gives a personal account of the daily lives of patients with RSD/CRPS and illustrates the tenacity and strength of these folks living with this depilating painful disease.
In addition, Mattocks is an advocate for people who are suffering from diabetes as well. He began this journey when he first learned that he was a type 2 diabetic. His plan for the immediate future is to work on his film and edit his documentary on diabetes while being called on other agendas related to his career. However, Mattocks would rather continue being a filmmaker and advocate in the health arena, which he considers more important than being a celebrity chef which is what he is most noted for.
His reality television show concept based on people who suffer from diabetes is in the hands of the President of MGM. This show parallels the reality series the "The Biggest Loser".
The most impactful moment for Charles Mattocks is winning two awards for best directing for his film, "Trial by Fire" at the Hollywood Florida Film Festival recently. This inspires him to continue being an advocate for health and stay in the trenches because he has the love for wanting to help people.
Click the link to listen to his interview.
By Erik Humphrey