"Concussion": A State of Mind
Posted December 22, 2015 by qotsm in
Film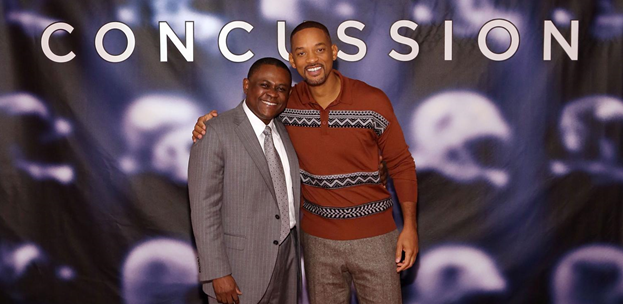 I'm a fan of actors who, in the course of their film careers, can find a way to do a good biopic. But even more than that, finding one that covers an important and meaningful topic, like Will Smith's new film "Concussion". This film, which opens December 25th, by its very nature is controversial; a "modern day David and Goliath".
Smith is no stranger to putting his talents (and his face) into roles that are based on real live people (i.e. Muhamad Ali in "Ali", and Chris Gardner in "The Pursuit of Happiness"). Each persona has its own challenge; and Smith's performances, so far, have lived up to expectations. Now there's a new challenge, and it's not just the character that Will Smith has to master; no, not by a long shot. With this film, he's taking on more than just telling the story of renowned forensic neuropathologist, Dr. Bennet Omalu. He's also taking on one of the largest multibillion dollar organizations in America…The NFL.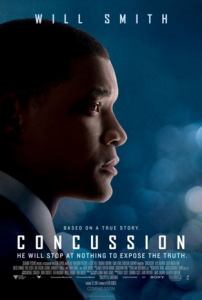 "Concussion" tells the story of one man's determination, not only to do what's right, but also save lives. Based on his findings from the autopsy of Pro Football Hall of Famer, and former player Mike Webster, Dr. Bennet Omalu struggles to get his research taken seriously by the one entity that needs it the most, and has the resources to make the drastic changes necessary, to deal with the issue of collisions on the professional gridiron, by addressing the impact concussions have on football athletes all across the US.
An article, written by Jeanne Marie Laskas for GQ (Gentlemen's Quarterly) magazine in September of 2009, called "Game Brain" speaks to the NFL's reaction when Dr. Bennet Omalu shows what remains of a concussed brain after years of abuse from playing football. These findings led to defining what is now known as "Chronic Traumatic Encephalopathy (CTE) – a disease linked to repeated blows to the head whose symptoms can include memory loss, depression and dementia"- [By Paul Solotaroff, May 2011 (editor's note)]. Like Mike Webster, other notable football athletes have suffered untimely deaths as a result of their own bouts with CTE.
Will Smith, along with actress, Gugu Mbatha-Raw, who plays Dr. Omalu's wife, Prema Mutiso, will, I hope, give us the viewing audience, more insight into the life of the man who must confront the corporate giant with news that will shake its' very foundation. Dr. Omalu's journey in this film is clearly one to watch with baited breath; especially if you're the NFL.
I've seen the trailer for the film, and I'm excited. As a football fan, I'm curious to see how the NFL will react. As a human being, I wonder how well people will receive the film. Will the public embrace the movie and its message on the severity of concussions caused by the collisions, which are a main component in football? Or will they embrace the notion that the NFL will do its "due diligence" and continue to watch football as they have prior to any discoveries, and long after said findings? What will be the impact of the film over all? It's been approximately thirteen years since Dr. Omalu discovered the issues of CTE; thirteen years. The NFL has made strides and continues to find ways to make football safer; but it's been thirteen years…are strides enough, when concussions are still occurring frequently? In looking forward to my own reaction to the film, I often ponder over whether or not I'm really ready to see it. What will the film "Concussion" do to change the NFL's state of mind? What will the film do to change our state of mind?
By Gregory B. Morgan