Diary of a Badman
Posted July 28, 2016 by qotsm in
Film
He was her assignment. She became his diary. Detective Simone Williams, a Jamaican immigrant to the US, dreams of working undercover on a high profile case. She finally gets her chance to go undercover in an attempt to catch a notorious drug dealer, Winston Bailey aka Bucky. She falls victim to his charming personality; compromising her assignment. Lines begin to blur as she gets in deeper. Over time, Williams develops a close bond with Bailey, and their loyalties are put to the ultimate test.
Suspenseful, intense, complex, intriguing, and heartfelt are all words that could be used when speaking of "Diary of a Badman", a gripping tale that chronicals the quest for power, passion, and the pursuit of all things possible. What happens when a man walks the thin line between good and evil? How many lives are affected when he wrestles between doing right or doing wrong? The film captures a love story while ironically showing the dichotomy of compassion vs. conviction, all within a firestorm of violence, vengeance, and betrayal. Be careful though…all is not what it seems to the naked eye.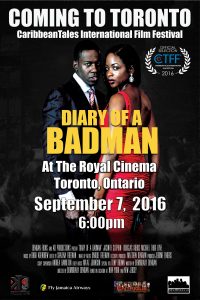 Nominated as "best film" by Philadelphia Independent Film Awards, Diemiruaya Deniran's surprisingly emotional film follows a young immigrant detective as she embarks on her first high profile undercover assignment.
The writer, producer, and director of the film "Diary of a Badman" is Diemiruaya Deniran. The cast includes Philadelphia Independent Film Awards Best Actress Nominated, Jacinth Sutphin, Best Male Actor Nominated, Douglas Robbs, and Best Supporting Actor Nominated, Michael Thor Love.
Diemiruaya Deniran was born and raised in London, England of Nigerian parentage. He now resides in New York City, where he has lived since 1996. This independent filmmaker has been behind the camera and handling audio recording equipment since the age of 10.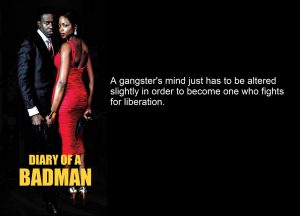 Diemiruaya is self-taught in nearly all aspects of his craft as an entertainer and filmmaker. In addition to countless musical projects as a solo artist and being featured in collaborative groups, he has written and produced several independent film projects, such as the web series Sexamacation, the movie Kuwsh, the short film, The Transaction, the sci-fi thriller Soul Remover, Reserve Notes and Diary of a Badman.
"Diary of a Badman" actually came from a prior movie I did called "Reserve Notes". The actor who played the actual "bad man" in that movie, the way he played that character sparked me to use that type of character one more time. What I wanted to do was to show a different side of a "bad man", and not give the same stereotypical view of a "bad man", says Deniran.
This was however, an issue of concern for the director. With all the perceived negative images of Black males in Hollywood and the media, he wanted to take great care to show another side of his main character. "A lot of people were concerned with that, wondering if this was just another negative image of Black people…of Jamaicans. I guaranteed them, it wasn't. After seeing the movie, they were able to see that", he says.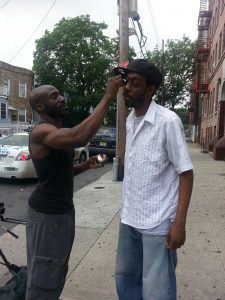 Actors and crew that have worked with him on the set have described him as being "demanding, yet extremely effective". Like any great director, those that have had the pleasure of working with him express his uncanny abilities to bring out the best in his talent as well as to depict a masterful interpretation of what he captures on camera.
Part of the recipe for the success of "Diary of a Badman" was in the casting of the key characters. With such an intensely powerful plot, it was critical that Deniran employed the perfect actors to bring his script to life. He explains, "Most of the cast in this film I've worked with before, so I knew their work ethic. But there were some actors I didn't know, that I cast online. They sent videos, and I basically cast them from that."
Douglass Robbs, who plays the lead in the film, Winston "Buckey" Bailey, says of his character, "he's a street figure mixed up in some "gangserism", but for the most part he's a good man trying to do good things." Although Robbs says he auditioned for the role in the film, he and Diemiruaya had a history from past professional collaborations, which gave him a leg up when it came to landing the starring role. However, playing such an intense and complex character presented him with some challenges. "There are always challenges with the character because once the words hit the paper it's my duty now as an actor to deliver the person the writer and director has in mind. With Winston "Buckey" Bailey, it was intricate because he was a very complex individual, being a gangster but at the same time he has a family and he falls in love with the very person who ultimately takes him down."
Jacinth Sutphin plays the character Simone Williams, a detective, who goes undercover to bring down the lead character "Buckey" Bailey. "The role of Simone was basically written for me because I worked with Diemiruaya before. So, when he knew I was Jamaican and from St. Mary, he was like, "Perfect, I have my lead." So, he wrote it for me." Jacinth became an actress after years of modeling and theater. "Now, I'm doing strictly television and film", she states.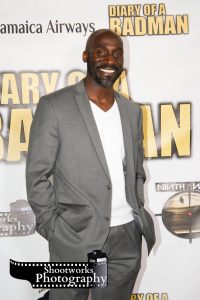 Richard Bird plays Bonez in the film. "Quiet on the Set Magazine" caught up with him at the American Black Film Festival, where he was promoting "Diary of a Badman". Not only is Bird an actor in the film, he is also the associate producer as well. He has assistant director and producer credits to his name for numerous past productions. He is quite proud of the film, and has been traveling the festival circuit to promote it. "I can't wait for everyone to see it. It's very different from what you're used to", says Bird. He, the director, Diemiruaya Deniran, and many of the cast members just finished a premiere in London to rave reviews of the film. They're enjoying a whirlwind, worldwide promotional tour, and have been racking up many awards along the way…next stop: Toronto.
Shot in New York and New Jersey, it took about three weeks to wrap "Diary of a Badman", says Deniran, "but the entire process from filming, to editing, to color correcting took six months." He dedicates his love for filmmaking to his appreciation for the artwork of world-famous artists Jackson Pollock and Willem de Kooning. His respect for their artwork made him realize that art and filmmaking are both expressions of the soul.
"Making movies gives me one of the greatest feelings because I am able to send my messages with very little barriers or prejudices. I want to go against the stereotypes and destroy the whole thinking of judging a book by its cover", Deniran states. "In "Diary of a Badman", I explore more than a ruthless drug lord's desire for money and power for selfish gains."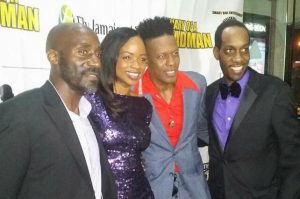 From his work, it's obvious that this director loves making films, and it's apparent that he pours his heart and his soul into the films he makes. If a diary is private and usually kept under lock and key, Diemiruaya Deniran has popped that lock so that all can gain access to his vast array of characters, and the complex and colorful world in which they live.
 "Diary of a Badman" sold out in London and will be screened again by popular demand on July 23nd 23rd and 28th.
 It will also be screening at the Caribbean Tales Film Festival opening gala on September7th, 2016 at the Royal Cinema Toronto, Ontario @ 6pm.
 For tickets:
https://www.eventbrite.com/e/diary-of-a-bad-man-tickets-26329428028?aff=es2
Quiet on the Set Magazine caught up director, Diemiruaya Deniran, and actor/associate producer, Richard Bird for an exclusive interview.
To listen to the interview by Erik Humphrey and Darryl Rembert click below: