GUANCIALE SHRIMP ROULADE WITH POMEGRANATE DRESSING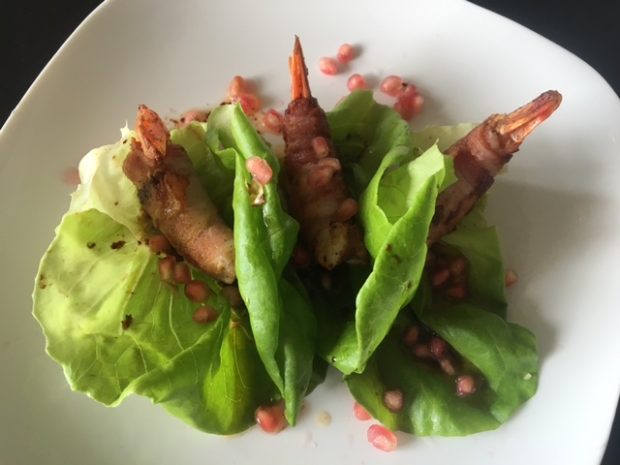 (BEAT Bobby Flay cooking show dish)
Recipe by Chef Serge Pambo
---
4 jumbo shrimps
4 thin slices of guanciale (2 mm)
4 nice leaves of fresh bibb lettuces
4 tsp of pomegranate seeds
FOR DRESSING
2 Tbsp. of pomegranate vinegar
6 Tbsp. of EVOO
INGREDIENTS
Salt
Fresh ground pepper
1⁄2 tsp of oregano
1/2 lemon
Pinch of paprika.
---
Devein the shrimp and rinse them under cold water.
Season each shrimp with fresh ground pepper
Very little bit salt because of the saltiness of the guanciale.
Squeeze the lemon juice on top of your shrimp to tenderize-acidity is always good for seafood
Roll each shrimp in each individual slice of guanciale really tight. The roulade roll allows the shrimp to resist the heat of the oven, but mostly to not come out during the cooking process.
Pre heat your skillet, with no oil at all (guanciale has enough fat) Searing the guanciale is the best way to create a roulade
Once it is nicely seared, with a beautiful brown color all the way around , finish your roulades in the oven for 10 to 12 minutes.
The dressing
In a medium mixing bowl, put your 2 Tblsp of pomegranate vinegar first, then slowly add the evoo and stir it with a wisk while you pour into the bowl.
Add the seasoning (salt and fresh grounded black pepper) and the oregano.
Wash your lettuce with cold water.
Remove your dish out of the oven and let it cool down.
Use a small beautiful salad bowl, First place your bibb lettuce, follow with your roulade on top of your lettuce, and sprinkle your dressing little bit everywhere and top it with the pomegranate seeds, paprika and love.
And repeat it for each plate