LOCK OUT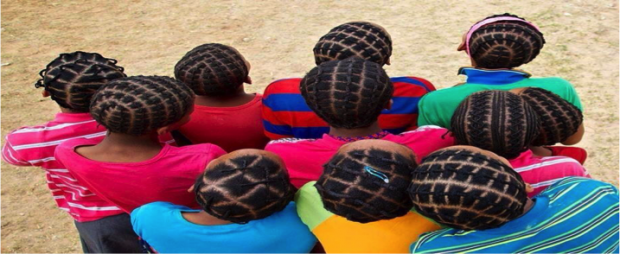 As the owner of Madam Walker's Braids, Lockery & School, located in Temple Hills, MD. Madam Walker (as some call her) has been a salon owner/instructor for over two decades. She has lectured internationally and has taught in Africa, London and locally. Her peers have honored her with many awards and accolades for her spirited teaching style and passion for the craft.
Some of the customs/culture of African Americans was lost in the systematic, bureaucratic, state-sponsored persecution, murder and enslavement of millions of Black people by the European regime and its collaborators. We lost the language of our homelands, religion, health care and healing. Though middle passage was abominable, those who survived it did manage to keep (some) of the ancestral morays and art forms that are innate to us as a people.
One of the art forms was the art of braiding. The beautification of our unique circles of coils held a spiritual connectedness for the braider and the braidee. The braid artisans of ancient times would masterfully form locks to communicate various statuses…married, single, with child, wealth, widowed and more.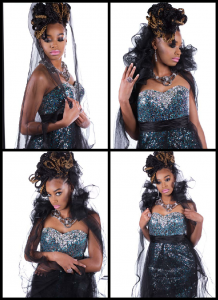 Styling hair, locking hair, braiding hair in its natural state is not new. Evidence of the art has been discovered in the ancient tombs of Great African Kings and Queens that ruled before Christ. The Old Testament in the Bible speaks of matted locks of hair. There were beautifully fashioned wigs found in the tombs of The Pharaohs. Evidence of styling braided hair is over 5000 years old.
How is it that a state government can demand that an ancient culture be regulated? We have gone to war about this on numerous occasions and State legislation has been passed, yet every five or ten years the notion that natural hair care and braiding is something that has to be monitored by the State Board of Cosmetology once again rears its ugly head.
Understandably, the use of chemicals and caustic solutions, such as sodium hydroxide (lye), should be regulated because of the liabilities involved. If untrained practitioners are allowed to offer hair care services (unregulated) that use these solutions, they in fact need to be extensively trained in all areas of the application process and how to access that application to suit the individual. This is not a "one size fits all" process where all clients are evaluated and serviced in exactly the same way. There are many chemical related horror stories that will attest to this. If a stylist is deemed a natural hair stylist or braider then we agree that they should not use chemicals that permanently alter the natural hair.
State regulation of non-natural hair care salons and services serves to protect both the client and the business owners from an array of liabilities. Severe burns, scalp irritation, hair loss, and heating tool related hair damage are just a few examples of what can be devastating results of an occupation with so many moving parts and no overseer. This is not the case for professional braiders and natural hair care providers who have been trained in sanitation/disinfection and salon technique.
On the other side of the coin…enters the community of "natural hair" care business owners. Ask the average African-American female what she remembers about her hair regimen as a child and she will most likely respond that every night before bedtime, her scalp was well oiled, massaged and brushed, then braided in her mother's style of choice. It was common practice, mostly during the summer months, to see elementary school girls sitting outside on the stoop of their building braiding their girlfriends or little sisters hair. Little did they realize that they were honing a skill that could serve them well as a business owner later on in their lives.
In essen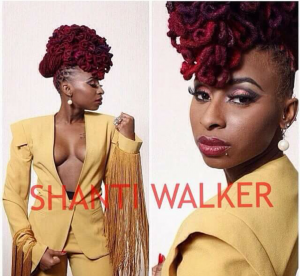 ce, this was comparable to a rite-of-passage for young Black females. As they grew older, they naturally learned to braid and take care of their younger siblings hair care needs. This became a daily ritual that had no need for regulation because everything done to the hair was loving, nourishing and natural in its application. So where is the need for "natural hair salon" regulation when there are no chemicals utilized? The results of braiding/hair manipulation lead to healthy growing "natural" hair. Additionally, does anyone know how well informed that State Board is regarding what "natural hair care" entails? Just asking!
Over a decade ago, I developed and taught the curriculum for Braiding at Price Georges Community College in Largo, Maryland. With my encouragement, the college began to offer certification to its students upon completion of the program titled The Art of Braiding.
It was the most popular continuing education course in the history of the school. For that reason, the Washington Post featured me and the highly sought after course on the front page of their 'Style' section. The school had a two year waiting list for The Art of Braiding. Ergo….Braiders, Locticians/Natural Hair Care Professionals WANT to increase their skills and knowledge of safe practices and infection control, but they don't want or need to be sanctioned or regulated or taught by their counter parts how to straighten or change kinky hair to make it look like someone else's. It is tantamount to saying that kinky hair isn't beautiful as is, or it isn't good enough, as it is.
Below is a post I wrote in response to the notification of the intention of State legislators and the state agency, the S.B.O.C. who once again will try to take natural hair care to task. Thereby, rescinding a law that has been written, read, voted on and signed by the Governor of the State, allows braiders, locticians and natural hair care providers to be exempt from the same laws of cosmetology.
We as natural hair care stylists, salon owners 'Keepers of the Culture should be incensed. We should indeed be horrified by the proposition that a group who knows nothing about what we do as professional artisans, and have been doing it for over 5000 years albeit (with no license), should have the arrogance to try and impose such a heinous crime against us yet again. Aren't you tired of this repugnant behavior? If they truly want to make sure that all people receiving braids or natural hair care services get a sanitary and infection controlled environment (including implements) then they should make funds available so that we might open hair clinics that train (for free) each and every individual who applies to be a hair stylist or braider.
An open letter from the Executive Director of American Hairbraiders & Natural Haircare Association and a Co-Owner of Cornrows & Company
This is an open letter to the Washington Post from the Executive Director of AHNHA, Taliib Din Uqdah, Co-Owner of Cornrows & Company regarding braiding and natural hair care 'For or Against Deregulation'
Good Evening Ms. Depillis:
You may or may not remember me, but I have (I think) the unique distinction of being the subject of the very first article you did for City Paper, before going to the Washington Post — The Dot Strategy — in April of 2010. In that article, you mentioned my ownership of a "hair salon," but I don't think you realized the context of that ownership, as it was not the focus of your story, but your Washington Post story, "Quality control or enterprise killer?" is.
Without giving you "a history lesson" that spans over 35-years, as the co-owner of Cornrows & Co., and the 1994 founder and executive director of the American Hairbraiders & Natural Haircare Assoc. (AHNHA), we are responsible for, not only the deregulation of hairbraiding in MD — 1997 — but at least a dozen other states and counting, in our continuing fight to remove the existing or continuing attempts at regulating a 5,000-year old cultural art form, juxtaposed to our cosmetology counterparts, whose licensed activity is not even a century-old.
The first cosmetology license was issued in Missouri — 1926 — and repealed the following year, as legislators found the issue — licensing hairdressers — to be more trouble than they were worth. Also, mentioned in your story — the Institute for Justice — we have the unique distinction of being their first repeat client, having achieved victories in both MD and CA under their representation.
Here we are, fresh-off a 2014 victory over the U.S. Army, assisting them in changing their prohibitive regulation against twists and locks for African-American female enlistees, and a 2015 decision by the Smithsonian Institute's African-American Museum to curate the work we've done on this very issue and other associated efforts — changing discriminatory grooming practices in the workplace — and there's still licensed cosmetologist making the same false claims today, they offered 18-years ago, and legislators still willing to help them.
Besides the economic liberty issue, what weakens the argument of "licensed cosmetologist" even more is the very consumers they're trying to protect, can go out and buy the very same products, equipment, materials and supplies "professionals" use, and do their own hair or that of their family and friends, at home.
I have some other responses to your story I want to make, as I've highlighted some of our opponent's arguments that I still find to be unfounded, but for now, I thank you for your attention to this issue and promise to keep you posted.
Best Regards,
Taalib-Din Uqdah, Executive Director
American Hair Braiders & Natural Haircare Association (AHNHA)
Cornrows & Company (Co-Owner)
It is definitely time for a movement, perhaps a very large movement in Annapolis to voice our concerns and not allow the expression of our cultural skills to become regulated by a State agency who doesn't have a clue on how to turn three pieces of chemical free hair into a work of art that is for some an enhancement of 'their crowning glory".
Marsulette (Marci) Walker
Click here to read the Maryland House Bill 1124