MOONLIGHT
Posted February 28, 2017 by qotsm in
Film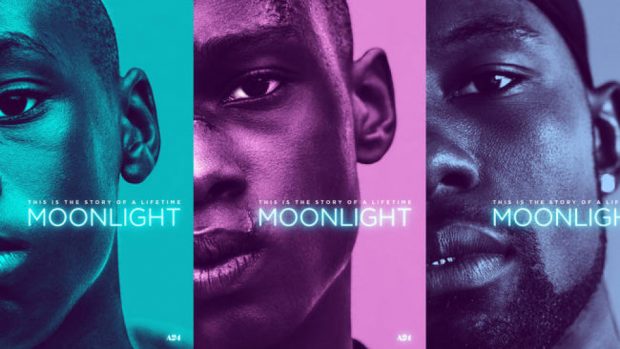 Barry Jenkins' award winning Oscar contender Moonlight , dares to defy the typical Hollywood stereotypes and clichés to become one of the most impactful movies to hit theaters in years.
Being only the second feature film to writer/director Barry Jenkins' credit, Moonlight follows, in
three parts, the life of Chiron, who is a product of the Miami housing projects. Jenkins and playwright Tarell Alvin McCraney, who wrote In Moonlight Black Boys Look Blue, on which the film is based, both grew up there, only blocks apart.
Chiron is played as a child by Alex R. Hibbert, as a teen by Ashton Sanders, and finally as an adult by Trevante Rhodes. In this self- encased trilogy of sorts, each act is marked by his evolving nicknames: "Little", "Chiron", and "Black". All are confronted by Kevin, portrayed by Jaden Piner, Jharrel Jerome and André Holland. He's a childhood friend of Chiron's who becomes someone more and more impactful and complicated to him over the years.
What is particularly fascinating is to watch is the evolution of the three Chirons. Each one different and changed by the experiences of the years, but each also sensitive and vulnerable yet gradually hardened by time.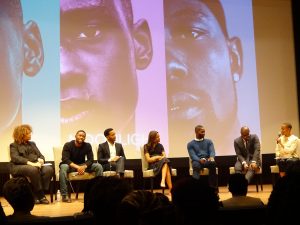 Mahershala Ali, is brilliant as Juan, a neighborhood drug dealer who becomes a trusted friend and takes young Chiron under his wing. He becomes a mentor, a father figure, and a savior all rolled into one. By doing so, he faces a quiet transformation of his own lifestyle and purpose. Juan tells him to find his own way and not let others define his identity. It's a standard message for a genre that typically affirms the power of self-determination. And Chiron does, in some ways, determine his own fate, transforming himself from a kid dismissively nicknamed "Little" into an adult who commands respect. In the process, though, he almost loses as much as he gains. Chiron's world defines manhood as physical and emotional "hardness." It's a familiar motif in movies about the inner city, but Jenkins doesn't clutter his film with stereotypes. As a matter of fact, Juan is far from one dimensional. Yes, he's a drug dealer, but he's also a gentle, enlightened surrogate father. Watching the interaction between Juan and Chiron is heartwarmingly refreshing and genuine.
Chiron's mother, Paula, is a junkie, but she also wants to do right by her son. When her hands tremble as he lights her cigarette for her, the wordless communication speaks volumes about bonds that cannot be undone. Naomie Harris is particularly impressive as Paula, who has her own issues to deal with alongside the demons she is fighting. She is the only character in the film, portrayed by the same actor in all three periods of Chiron's journey.
Janelle Monáe, plays the redemptive better half to Juan. She takes young Chiron in and gives him the time, attention, and the nurturing he so desperately yearns for. As the more ideal, sturdy maternal figure, you wish for her to swoop in and save Chiron from his tumultuous life, and absent mother.
As a young boy, Chiron asks Juan what a "faggot" is. This is what he has overheard being said by schoolyard bullies, and he wonders if it applies to him. As a teen, he angrily questions why people call him 'black'. The old nickname 'little' no longer applies. Later, Chiron hopefully prods Kevin into admitting he cries and has a sensitive side too. By the time a chopped and screwed version of Jidenna's "Classic Man" plays in the final act over Juan's old car stereo—now Chiron's—it's clear Barry Jenkins has sowed the seeds of doubt in Chiron, along with us. Who and what is he, and who are we? And which labels apply?
At a pivotal moment in Moonlight, Juan fires up a jukebox with Barbara Lewis' classic "Hello Stranger" playing in the background. The phrase "been such a mighty long time" takes on its' own meaning between the two, who at this point haven't seen each other in quite some time. They both let the song floating in the air say the words the two men on screen can't seem to say. That scene encapsulates what's magic about Barry Jenkins' indie drama.
Barry Jenkins and Tarell Alvin McCraney, succeed in telling a story that is not unprecedented, but long overdue. No story has been told quite like this. Because Chiron is black, gay, and poor, one might expect a different story altogether than the one that gets told on screen. This film is unconventional and refreshing in a deeper sense too, because he doesn't come of age in the ways that typical movies have trained audiences to expect. The mold is broken as the viewer gets to see the world through a different lens…the eyes of Chiron, who is far from your typical Hollywood prototype.
The cinematography in Moonlight is integral to the film's success. The camera almost serves as another character within the film. Take for example the exceptionally long, pivoting opening shot of a drug corner. The viewer is swept up in the scene as if he is there in the middle of the moment with the characters. The camera lets you feel the scene instead of simply having you watch it. These bold cinematic choices are ones that serve the story well. In a particular scene where Chiron's mother is 'feening' for drugs, Jenkins uses jagged camera movements accented by mounting and receding waves of background noise to pull us into her desperately fragmented head rush. For a moment it's almost as if we're in a horror/suspense movie. Ironically, this is symbolic of the heart-wrenching chaos that is Chiron's day to day life. He's living it, but we're merely watching it.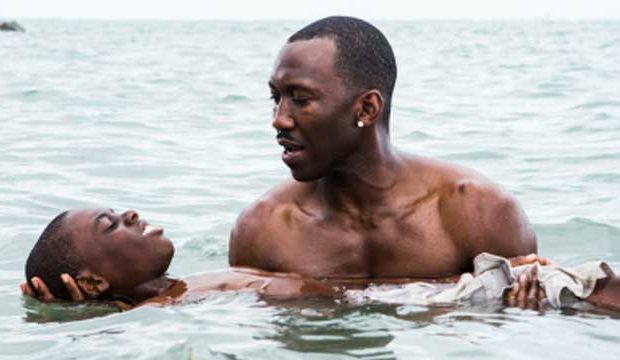 Jenkins said he didn't look for physical similarities among the three actors portraying Chiron. He looked into their eyes, which was the most important feature anyone would need to become that character. Convincingly, what the three actors who play Chiron lack in physical resemblance they make up for with similar body language. The averted eyes, hunched shoulders, and awkward discomfort tell it all. The defensive posture of the boy tells us everything we need to know about the aggressive posturing of the man. It's merely a disguise that grants him power, but no satisfaction.
For all you "happily ever after" seekers, Jenkins doesn't wrap this narrative up in a nice, neat, package with a pretty bow. Moonlight doesn't offer an easy solution to a complex situation. What it does offer is a powerful affirmation of its characters' complex humanity, along with all the beauty and sorrow that accompanies it. This film boldly paints the world in new shades and colors we think we've already seen. Like the dim luminance of the moon's shadows cast upon the water, hopefully Moonlight will allow us to see even ever so slightly the light of what was once the mere glow into a world of darkness.
Darryl Rembert