Mudbound
Posted March 9, 2018 by qotsm in
Film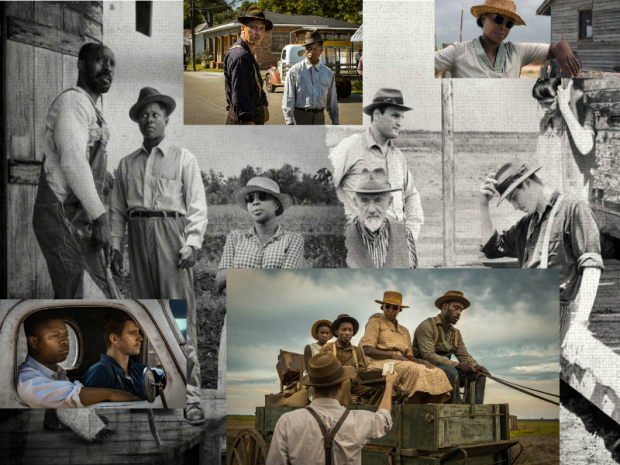 The film 'Mudbound' takes place in rural Mississippi where a young white family comes to acquire the management of a farm that is being sharecropped by a black family. This is taking place at the end of the fighting in Europe, during World War ll. Both families are impacted by the fact that each has a returning war veteran coming home with similar battle sustained issues, but having to face very different demons when they arrive. Sadly, this story's history starts long before WW ll, long before WW I, before the Civil War, and even the Revolutionary War. The battles being fought have not only been of this country, or from abroad, but attacks on freedom and civil liberty through tyranny of its own citizens here in America.
One of the great things about 'Mudbound' is its ability to address multiple themes without completely separating them during the telling of this tragic story. As viewers, this movie takes us through the gambit of emotions: love, understanding, denial, hate, sadness, resolution and reconstruction all in the short span of this remarkable film directed by highly acclaimed visionary Dee Rees.
The writer and director take us through different yet related family stories as we view racism from different sides while also seeing that humanity can be attained through like experiences. How clearly right and wrong have its place within both families' dynamic; causing us to see the realities of that time in our history in relation to where we are today. We continue to embrace our evolution as Black People in this country.
'Mudbound' has given us a look back at a time when Black soldiers were revered more in Europe than they were in America. It takes us back to a time when PTSD (post-traumatic stress disorder) wasn't something that was treated at all. It was just something people dealt with through drinking or drug use. It also shows us that over the many decades of war, and the many Black lives which were taken protecting and defending this country and its "FREEDOMS", how tragic it is that through all of it, racism prevailed then, and racism still prevails today. There are many lessons which can be learned from seeing this production. The hope is everyone who needs to see this movie will take the opportunity to do so. Another hope is all those who watch this film will share the experience, and so that more will embrace it as well.
Performances in this movie by some of the key roles, give this feature production its stability and girth. Mary J. Blige (Two Time Oscar Nominee for Best Supporting Actress and Original Song for 'Mudbound') as Florence Jackson, a strong and caring mother who basically wills her family through all their pain and suffering to never give up hope and stay ever vigilant. Jason Mitchell ("Straight Out Of Compton, Detroit, and The Chi") as Ronsel Jackson, a young man fighting for a country that didn't appreciate him, only to be thrust back into an all too familiar hell. Garrett Hedlund ("Troy, and Four Brothers") as Jamie McAllan, an Air Force hero who's only wish is to lose himself in a bottle of alcohol so he can at least temporarily, escape the horrors of war that constantly flood his mind. Finally, Jonathan Banks ("Wiseguy, Daybreak, Dexter, and Breaking Bad") as Pappy McAllan, the aging patriarch forced to uproot his home or be displaced. He's man so full of hate, that even his own family despised him. Each actor playing a major part in the development of this emotional and impactful film is why this motion picture works.
In my opinion, you'd be doing yourself a disservice by not taking the opportunity to see this film. Dee Rees has done an excellent job in conveying all the many realities this film addresses, and captures all their importance for those willing to see it. This is one I look forward to seeing again.
Gregory B. Morgan