Nice and Smooth
(Simple Satisfying Smoothie Recipes… Anytime)
We know most of you are busy from sunup to sundown. I mean, let's be honest, who has time for a full, well- balanced breakfast every morning? There's barely enough time to shower and dress and still make it to work on time. We have the perfect solution for you…SMOOTHIES! If you do it right, most smoothies are simple, nutritious, healthy and delicious. You can switch them up daily so you never get tired of the same old thing day after day. Actually, the possibilities of ingredient combinations are literally endless!
Let's get you started with a few basic do's and don'ts when it comes to mastering your smoothie technique.
Always use fresh ingredients if possible.
Use natural or organic fruits and vegetables if available.
Use a combination of fruits and vegetables.
Use natural sweeteners if necessary like honey or agave.
Be adventurous and try new ingredients.
Be aware of the calories if you're on a caloric regimen.
We all know smoothies can be a great source of fruit and vegetables throughout your day, but what many people keep asking is what are the best recipes or the right amounts of fruit, vegetables and protein they should add to their smoothies. Well, we found a few of these great recipes online that are easy to follow and even easier to make.
Please Note: with all these recipes, where "milk" is needed, the recipe calls for almond or cashew milk, NEVER regular cow's milk. It's important you follow that rule when creating smoothies as well as not to dilute your smoothie with ice. Simply drink a glass of water afterward to wash it all down.
Now, when you get your ingredients and a GOOD blender, you're on your way. Smoothies are perfect for breakfast, lunch, dinner or as a snack or meal replacement. As long as you keep it healthy and low in calories, you have nothing to worry about. In fact, you may find yourself losing a few pounds in the process, so have fun and ENJOY!
Here are some great smoothie recipes to get you started. Feel free to mix and match your favorite ingredients to come up with a signature smoothie of your own. Let us know your favorite!
Chocolate Almond Butter Shake and Tropical Mint Smoothie 

(Photo Credit: Tumblr)
Green Protein Shake and Peanut Butter & Jelly Smoothie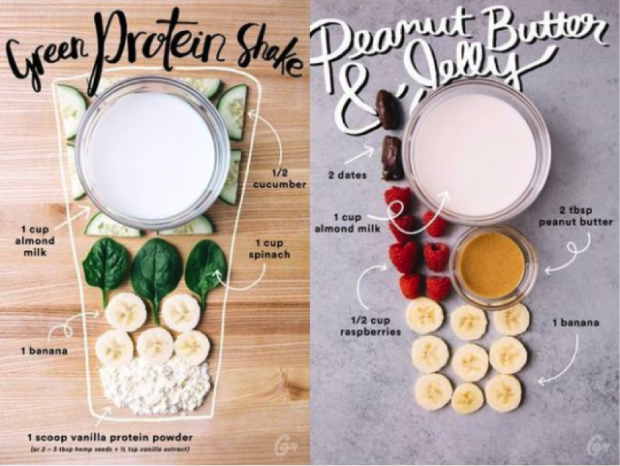 (Photo Credit: Tumblr)
Berry Oat Hazelnut Smoothie and Apple Pie Smoothie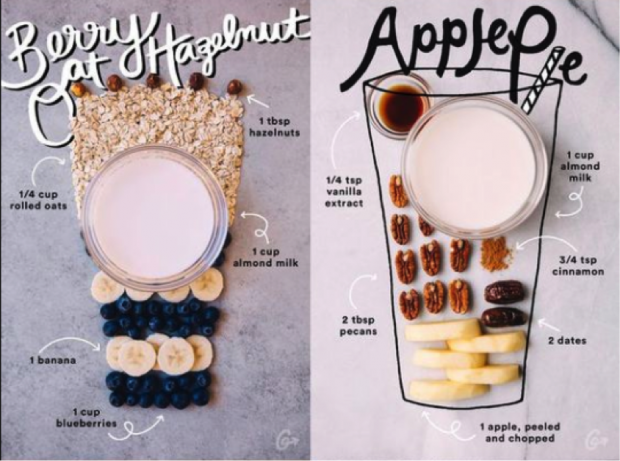 (Photo Credit: Tumblr)
Cinnamon Bun Smoothie and Green Nut Butter Smoothie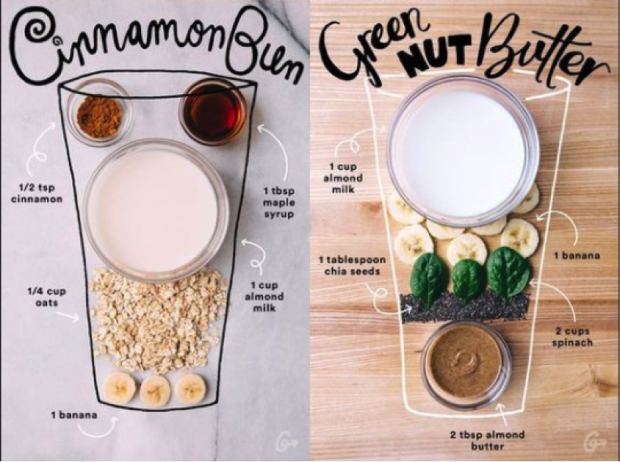 (Photo Credit: Tumblr)
Basic Green Smoothie and Pina Colada Smoothie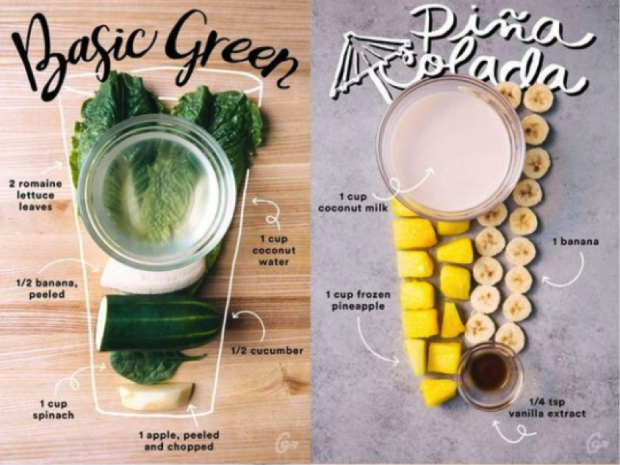 (Photo Credit: Tumblr)
Strawberry Sunrise Smoothie and Mint Chocolate Chip Smoothie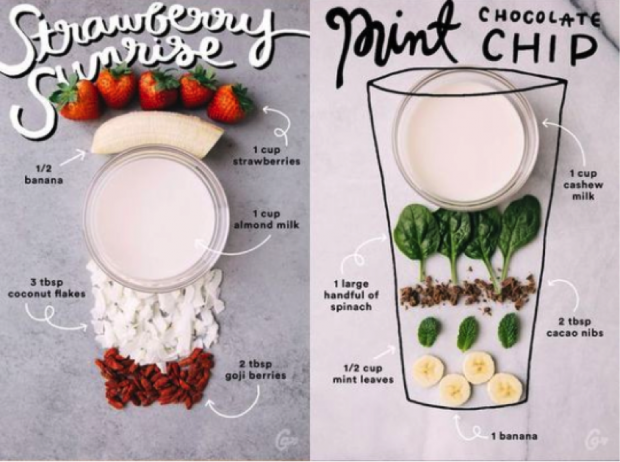 (Photo Credit: Tumblr)
Jolly Green Giant Smoothie and Orange You Glad It's Not Green Smoothie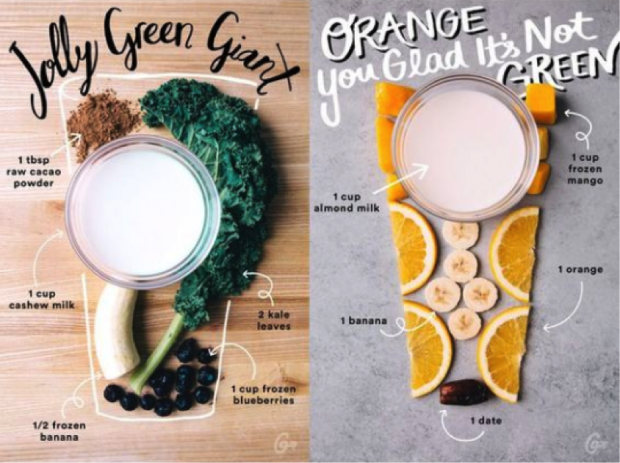 (Photo Credit: Tumblr)