PATTI LaBELLE'S GOOD LIFE
"Quiet on the Set Magazine" recently caught up with Patti LaBelle while on her "Platinum" 2014/2015 concert tour. At 71 years young, she is still going as strong as ever. Coming off a whirlwind year of appearance after appearance, you might say 2015 is the year of Patti.
She started the year with her usual concert dates, which are still ongoing through the fall. You can bet that Patti LaBelle will not be sitting at home in Philadelphia too long. "I love to sing, that's what I do," she says with a smile. Patti's got more irons in the fire than a blacksmith these days. Between concert dates, acting, dancing, making guest appearances, and flexing her entrepreneurial muscles developing a line of sauces and marinades, it's a wonder she has time to think.
First, we saw her on "American Horror Story: Freak Show", not exactly a show one might associate with the likes of the legendary Patti La Belle. Just when you think she has pulled all the stops from her trick bag, she takes us one further. Don't be too surprised though. Although she may be best known for her singing and songwriting ability, she's no stranger to acting either. She has appeared in several movies (including the Best Picture-nominated "A Soldier's Story") and TV shows (including a starring role in "Out All Night", and a recurring part on the '80s NBC sitcom "A Different World"). She was only contracted for a four episode run, so Ms. LaBelle's "American Horror Story" run abruptly ended when Dandy Mott slit her throat at the end of "Edward Mordrake (Part 2)." Oh well, as usual, either the butler did it, or the maid gets it! It was good television all the same.
Just this past spring, Ms. LaBelle shocked the world by announcing she was joining the cast of "Dancing with the Stars". Now, we all know Patti can sing, but who knew she could also dance? She and dance partner Artem  Chigventsev got their groove on week after week, dance after dance for six consecutive weeks.  When asked how she felt about the experience she said, "Emotionally, I was fine. I knew someone had to leave. It was either Robert [Herjavec] or Patti. It was Patti. I'm so proud of myself. I never thought I could do six weeks of this," she said. "Thank God I had Artem[Chigvintsev] as a partner,  because if I didn't I would've been gone the second week. I had the time of my life," Patti told Artem, "Thank you."
Then, when we thought we had seen all there was to see of Patti, she made a cameo guest appearance in the breakout hit of the year, "Empire" and she knocked it out of the park with her powerhouse performance. So now, the question everyone is asking is, will the 71-year-old music icon be making a return in the show's hotly anticipated second season? The answer is affirmative, "Patti LaBelle will return," she said with a smile, before revealing that show's creator Lee Daniels originally had a pretty surprising role in mind for her when he first asked her to come back. "At first Lee had me playing an angel. I said, 'An angel? That means I'm over!' You know? I'm gone," LaBelle recounted, laughing. "He said, 'Ok, LaLa. I'm gonna give you a part and you're going to come back all the time. She says he asked her if she would not mind doing something daring on screen for her season two appearance. "We talked about it about three months ago. He said 'LaLa,' — he calls me 'LaLa' — 'would you take your wig off?' I said, 'Hell no,'" LaBelle explained, laughing. "So he's trying to do something daring with me, but I ain't going out like that. I love you Lee, but no, no. Viola Davis did it well on 'How To Get Away With Murder,' but not Ms. Patti. I can't do it." Well, we don't care, wig or no wig, we will be tuning in just the same. 
When asked about her acting, she surprisingly states, "acting was something that I never really wanted to do. I was asked to be in "American Horror Story", and "Empire asked Patti LaBelle.  The other things I've done like "Out All Night" and "A Different World", I had to prepare for because I'm not a natural speaker. Actually, I'm kind of shy really", she told QOTS Magazine. " I don't like speaking, so when I had to do these roles, I really had to memorize my lines. I had to use a different part of my brain. Acting takes a different type of discipline. You have to know your lines, so the next person can catch their cues and say their lines. I had to become more disciplined to be an actress. However, singing is a totally separate matter. Singing is natural for me. I wake up singing, that's the blessing, but I wasn't naturally blessed with acting ability. I have to work at that. I do it, but it's not my forte."
As Ms. LaBelle awaits the filming of her second appearance on "Empire," she is also preparing for the release of her debut Jazz album. She describes the 13-track project, which is currently untitled, as tentatively set for an early 2016 release that will feature her rendition of songs by Nina Simone ("Wild Is the Wind"), Frank Sinatra ("Softly As I Leave You"), and Gloria Lynne ("The Folks That Live On The Hill") among others. "I'm very happy to hear some of the young singer's going back to old school, like Tyrese, Jill [Scott], and Johnny Gill," she said. "They're singing songs like they used to be sung — with basic R&B chord changes and basic stories."
Although she is busy with multiple projects, Patti still has time for social causes like diabetes awareness, HIV/AIDS prevention, and the current "Black Lives Matter" campaign. "I'm hoping we can come to a place of healing. The hate and discrimination have got to stop", she states. "If we could all just treat each other as we want to be treated, the world would be a better place. Regardless of race, religion, sexual preference, etc, the hate has got to stop. I pray that we find peace and resolution in these troubled times. I pray each day for that. We need to talk it out so others can see another way of thinking and living and loving. Different groups of people should get together and talk…perhaps different ideologies will catch on. We can only hope and pray.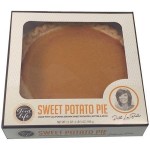 Recently, Patti has been on everyone's tongue…literally! Her sweet potato pies have been flying off the shelves at Walmart thanks to internet viral sensation James Wright. His YouTube testimonial to Ms. LaBelle's pies is priceless, and worth a mint in Patti's pocket. She recently had him over to her house for dinner for the holidays. He was also a guest on her cooking show on The Cooking Channel, "Patti LaBelle's Place", where they made pie, pies, and more pies. The perfect pie pair has been hanging out all over the place. They even took a pie to Steve Harvey for him to try on his hit daytime television show, where he couldn't help doing his impression of James trying the almost impossible to get sweet potato pie for the first time.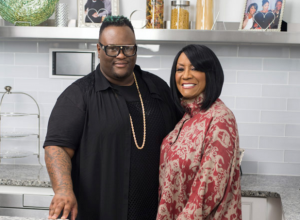 If that's not enough, be on the lookout for "Patti's Good Life" products. "My sauces and marinades are all very healthy. I'm a diabetic, so that's how it all started. I make things that I can use. I wanted to create something for those who want a healthier or better lifestyle. I'm coming out with even more items from my line."  "Patti's Good Life" products can be found on her website www.pattilabelle.com or at a number of retail stores such as Walmart, Wegmans, Safeway, and Kroger to name a few.
It seems that "Patti's Good Life" isn't just the name of her product line, it's a mantra for a woman full of love, life, and lasting music that we simply cannot get enough of. God Bless you Ms. Patti LaBelle, and may life not only be good for you, and good to you, but may it keep getting better.
Darryl Rembert