The Black Panther: All about History and Lineage
Posted March 9, 2018 by qotsm in
Film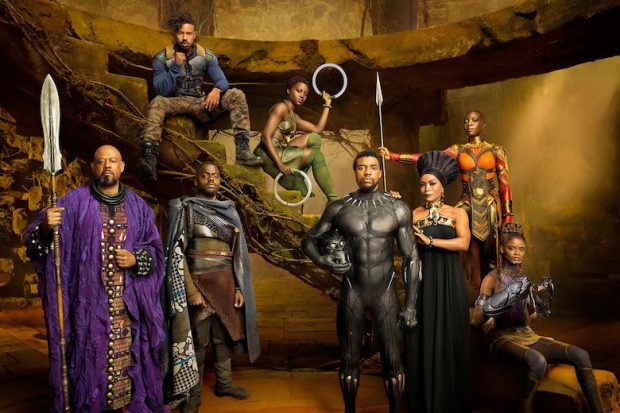 In April of 1966, six months before the Black Panther Party was established, Marvel Comic's Stan Lee and Jack Kirby created a new superhero that was a native of an African continent, who was a black prince from one of the wealthiest countries on the planet. As a child of the sixties, and an avid comic book collector, how thrilled I was that my dreams and the dreams of many young black kids was now a reality in print. Let's be honest, comic books have a way of taking your mind away to a better place than the reality you may have to face in your day to day life. For most black kids, no matter where you lived in America, no matter how much you were loved, your day to day was difficult at best. So with racism all around you, the fact that this new black superhero was not only strong and agile, but smart and wealthy; it was like a dream come true. Just think, that was fifty two years ago.
Today in America, with racism all around us, it's no wonder our young people (and many of our older people) gravitate toward the symbolism of hope, unity and humanity which are represented by the same comic book character, now in motion pictures, that was created way back in the turbulent sixties. True, times have changed, and we as a people have risen to greater heights than our ancestors both educationally as well as technologically, but much has stayed the same, and some things have gotten worse.
Enter in Marvel Comic's "Black Panther" the movie! This comes at a time when faith in our government and sadly, ourselves is at an all-time low. It's crazy to think that a film about a black superhero from a rich African country can somehow be a beacon of light, bringing people together, sparking conversation about our humanity, here and abroad…but it has.
I won't lie. We (my wife and I) bought our tickets about a month in advance. You've got to understand, I've been waiting to see my superhero of choice since 1968! Although I collected superhero comic books back in the day, once "The Black Panther" character hit the scene, I was hooked. It's no different today. With all the success that Marvel / Disney has had with their previous superhero action films like "The Avengers", it's no wonder such an iconic character, especially one so highly embraced by the Black community is getting so much publicity and attention. Comic book fans all over the country are coming out to see this film. In "Captain America Civil War", The Black Panther makes a brief, but successful showing of his skill set as a member of The Avengers.
Now the comic book prince, soon to be king "T'challa" has a movie dedicated to his character in the Marvel Universe. This law abiding, young, wealthy, mentally and physically strong, loyal man of the people of "Wakanda" is about to bring to life, for this generation (and all generations) what our dreams have always known, and that's what superhero royalty looks like, and what do you know; he looks like me! Positive images in any community is a win, win. These images become even more poignant where the community is lacking positive images. In places where ones' self- esteem has been trampled and despair is common place, people can escape. They can escape from their pain and suffering to find refuge in ideals that can motivate them, even if it's for a brief moment. This film looks to provide such comforts. Yet, it seems the hope is not to be fleeting, nor subtle, but assertive in its dialog and portrayals delivered by the characters in this epic film.
The impressive formula for this film starts with amassing an all-star cast to play pivotal roles which launch this film into one of the years more entertaining, visually stunning, and cinematically impressive movies I've seen in a while. Chadwick Boseman (Get On Up, 42, Message From The King) in the leading role as T'challa, Angela Bassett (What's Love Got To Do With It, Malcolm X, Waiting To Exhale) as Queen Step-Mother Ramonda, Forest Whitaker (The Great Debaters, Good Morning Vietnam, Phenomenon) as the wise and loyal Zuri, Lupita Nyong'o (Academy Award Winner, 12 Years A Slave, Star Wars: The Force Awaken, and The Last Jedi) as T'challa's love interest and warrior spy, Michael B. Jordon (Red Tails, Fruitvale Station, Creed) as the interloper Erik Killmonger, Daniel Kaluuya (Get Out, Sicario, Welcome To The Punch) the prince's friend and border chief, and two ladies that, in my opinion, merit special mention. Danai Gurira (The Visitor, Mother of George, All Eyez on Me) as General Okoye, and Letitia Wright (The Commuter, Urban Hymn, Top Boy), as T'challa's sister and tech wiz, Shuri.
Other than just being a fun movie to watch, "Black Panther" speaks to lineage, and history of a people and their culture, as well as preserving one's ancestry for future generations, along with the struggles that have to be faced in order to maintain it and also guide it through to its next evolution.
Like any society, there are times when those in power are challenged and new paths are built. In the onset of this film, after the death of the monarch and previous Black Panther, T'Chaka ("Captain America Civil War"), the time comes for T'challa to claim his rightful place as heir to the throne of Wakanda. All those of royal blood may challenge the heir to the throne where the winner is crowned, regardless if he (or she) is the heir or not. Therein lies a chain of events that are of a malicious intent which continue to build as the movie leaps forward in spectacular fashion. *
Although I applaud the fine work our Black Panther Chadwick Boseman did throughout this film, the performer who's star shown brightest was princess Shuri, brought to life by actress Letitia Wright. Her character's enthusiasm and ingenuity, was like a ray of sunshine at every turn; and that's a tribute to Ms. Wright's ability to project that character for us to see.
A solid script, a compelling story and a stellar cast are the makings of a really good movie. This film isn't lacking in any of these categories. Even though my ""personal relationship" with the comic book hero of my youth, may have some bearing on how I feel about this film, I would be remiss if I didn't recommend it. I feel the best way to watch this film is in IMAX 3D which is how my wife and I were able to enjoyed the movie. It is a family film and it's important that you take your family to see it. You won't be disappointed.
*[We owe much of that movie magic and splendor to (Academy Award Nominee for "Mudbound") cinematographer Rachel Morrison]
Gregory B. Morgan