WHO WAS K. DUNN?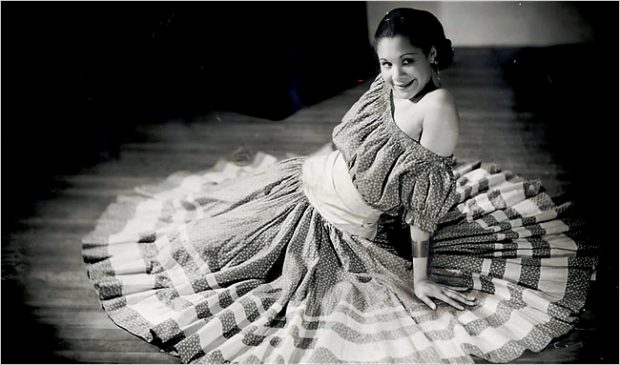 A Movement is Born
"I use to want the words "She tried" on my tombstone. Now I want "She did it." That was one of the famous quotes of Madame Katherine Dunham. It was difficult enough to even imagine accomplishing much as a woman at the beginning of the 20th century and even less being an African-American woman. K. Dunn was an alias Katherine Dunham used to get her writings published by some of the most influential and leading editorials in America. What a wonderful thing to have lived and accomplished as much as Ms. Dunham did to satisfaction. So if you're an actor, dancer, political activist, scientist, social worker, inventor, or writer, you may want to take note of this world pioneer.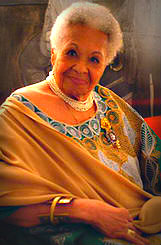 Born Katherine Mary Dunham on June 22 in 1909, Katherine Dunham was a dancer, anthropologist, choreographer, author, educator, and activist. She had many titles but the ones which stood out the most were dancer-choreographer. That double title would never find separation throughout her illustrative life both on and off the stage for the next ninety-seven years. She and her company found success here in the states but was highly celebrated throughout Europe and Latin America.
Thanks to her artistic genius during the emergence of American Negro art and culture, the golden screen and stage has allowed her works to be preserved such as Carnival of Rhythms, Star Spangled Rhythm, Cabin in the Sky, Stormy Weather, Aida, Pardon My Sarong (Bud Abbot and Lou Costello), Shango from Carib Song, and Mambo.
Those who didn't understand cultures chastised the brilliance and authenticity of her presentations. She literally brought the Caribbean, South America and African rhythms to us via live stage and film. Tommy Gomez and Lucille Ellis, who were early members of the Dunham Company, continued to teach Chicago area dancers and preserve the technique there. Vanoye Aikens spread the Dunham gospel in Stockholm, Sweden and to dancers in Europe. Cicéron in Haiti and Ronnie Marshall (Ghanaian rhythms) in Ghana, West Africa.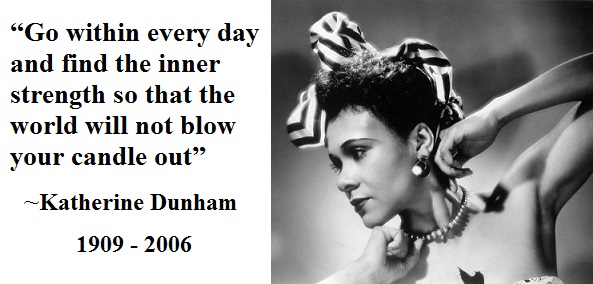 By the time of her death she had been recognized and decorated generously for her many contributions to society and the arts. Some of those awards included: The Presidential Medal of Arts, The Kennedy Center Honors, Southern Cross of Brazil, the plaque d'Honneur Haitian-American Chamber of Commerce Award, Grand Cross of Haiti, French Legion of Honor, NAACP Lifetime Achievement Award, The Albert Schweitzer Music Award at Carnegie Hall, and the Urban Leagues' Lifetime Achievement Award. Miss Dunham's recognitions also include a star on the St. Louis Walk of Fame. Katherine Dunham died on May 21 2006.
G. Carlos